Social Fundraising: Are we getting it all wrong?
The new definition of social fundraising
It's referred to as 'peer-to-peer' (P2P), 'crowdfunding', 'social fundraising', and a few other buzzword-sounding terms. And over the last few years it's been getting more and more attention inside and outside of the direct giving and nonprofit space.  There's been a decent amount written on the topic, but as I skim through article after blog post it occurs to me, "might there be something everyone is overlooking? Do we need to alter our definition of social fundraising?"
Up until this point, many have talked about social fundraising like a current trend or additional channel. Like you can simply add it to your marketing mix. But that definition seems to miss a larger, monumental shift that has occurred.  Social media, in its relatively short existence, has fundamentally changed the way we interact with each other. It's a dramatic transformation of how we engage with causes, and it's never going back.
Social Media, Quick and dramatic changes
It's pretty interesting to think about just how young social media really is.  Facebook was founded in 2004; YouTube in 2006. Each of these social networks is just a little over a decade old – and yet the impact they've had on our lives is stunning.  To put it in perspective, the telephone has been widely accessible in the United States for well over 120 years.
It's almost impossible to picture how we interacted before the lens of social media existed; how we marketed, shared stories, and informed individuals about important and pressing issues in the world. This kind of swift, all-encompassing change shouldn't be taken for granted. People don't view the world in the same way anymore. Things have changed forever, and we all need to adapt to this shift.
Fundraising, a new era
Social fundraising is how your supporters want to engage with your cause, make it their own, and show the world how they give back. It's a complicated interaction of the 'who' (your supporter), the 'what' (their support of your organization) and the 'why' (their passion for your mission). It hinges on the ability for your community to tell the world your story through the lens of their story, all at the speed of a tap, and through the megaphone of their mobile device.
This sharing and repurposing of traditional cause narratives is important and it brings a tremendous amount of value to nonprofits. An action or message delivered to you by a friend or family member resonates in ways a direct communication from an organization never could. And, thanks to the aforementioned shift, we're now trained to digest, consider action, and spread the word. At GoFundMe and CrowdRise we've been seeing for some time, that fairly often, the sharing of a donation results in a new donation by someone outside the normal reach of the nonprofit.
It's really inspiring to see so many causes and nonprofits embracing this shift. They're incorporating social fundraising into everything they do and they're seeing unprecedented engagement. These organizations go beyond speaking 'one-to-many' and encourage and empower their supporters to make a cause story uniquely theirs. Then they watch as their communities bring their friends and family into the fold to share, give, and rally.
Social media fundraising tools for the moment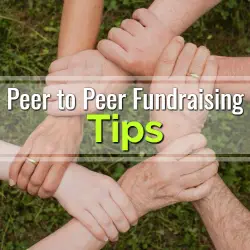 Since we now live in a world that has moved 'beyond the donation' our focus needs to be on providing the experience that supporters of causes seek. At the moment it's creating and optimizing the sharing experiences at specific moments of user interaction. In the near future, nonprofit success will mean engaging your community not only as donors, participants, and subscribers…but as storytellers, influencers, and recruiters.
As always, there will be those that embrace the shift and those that resist it. I believe those that embrace this change will come out as the clear winners, and those that resist will find it very difficult to stay relevant.
Win or lose, it's a tremendously interesting time fo social fundraising and I couldn't be more excited about it all.
Gary Wohlfeill is the Director of Brand & Marketing at CrowdRise. He works with partners to develop highly engaging fundraising campaigns and leads the marketing team in developing the CrowdRise brand.