Using Your Nonprofit Website as a Fundraising Tool: 4 Tips
Your nonprofit's website serves as the central hub of your nonprofit's online presence. It hosts your mission statement and information about your programs, enables supporters to get in touch with your organization, and allows potential supporters to organically find your nonprofit online.
Your nonprofit's website can also be leveraged as a fundraising tool in your marketing campaigns. Most fundraising campaigns focus on connecting with supporters on other platforms such as social media, email, and even traditional mail. Potential donors are already on those channels and your marketing outreach aims to bring them to your website.
Your website is a core component of your marketing strategy for your digital fundraising campaigns, and can be leveraged to improve your fundraising campaign's strategy with these four tips:
Optimize Your Donation Page
Connect to Social Media
Create a Brand Identity
Include Interactive Media
These strategies will improve your website's functionality, design, and content to raise engagement rates, improve donor retention, and make donating more convenient. As you implement improvements, track your donation and interaction rates to understand how your changes impact your campaign. Your data will provide insight as to which choices had positive results and what needs to be refined further. With that in mind, let's jump in.
1. Optimize Your Donation Page
Supporters who reach your donation page are at a critical point in their engagement with your nonprofit. At this point, your supporters understand your nonprofit's mission and are considering donating to the cause. However, donors can still be deterred as some will abandon their donation forms before ever completing their gift.
To avoid donation form abandonment, create an easier, more convenient donation experience for your supporters by optimizing your donation page to encourage both completed and recurring donations. Here are several strategies you can apply to your donation page to convert donors:
Making sure your donation page is easy to find. Many nonprofits have a donate button visible on their homepage and header, while others embed their donation page directly into their homepage or even on top of their banner or hero image. Your supporters should never be confused about how to access your donation page, so ensure navigation is as easy as possible by providing clear links that direct supporters to your donation form in as few clicks as possible.
Asking only necessary questions. You should ask your donors questions in addition to their payment information such as their contact information and gift amount. However, too many required information fields, especially when they seem unnecessary, can result in donors deciding the form isn't worth their time. Limit your form to a single page and keep your questions relevant to the immediate donation in order to respect your donors' time and quickly secure their contribution.
Offering additional engagement opportunities. Many of your donors are interested in supporting your nonprofit beyond their first donation, but you have to give them the option to do so. Offering them further opportunities such as becoming a recurring donor or checking to see if they qualify for a matching gift. After they make their donation, ask donors if they would like to opt-in to receive additional messages about your nonprofit's activities to stay in touch.
While not directly supporting your fundraising, always take care to ensure your donation form and payment processor are secure. Supporters may not be wowed into donating by knowing your website is secure, but they will feel more at ease when giving out their financial information. Not to mention, protecting your nonprofit and your donors against data breaches will help build trust and your reputation as a reliable organization.
2. Connect to Social Media
Social media is likely one of your key fundraising tools as you're able to reach supporters on the platforms they already frequent. Your social media profiles and posts should link to your website to drive traffic, but your website can also enhance your social media outreach and engagement.
Your website will be many supporters' first impression of your nonprofit, but it's often updated less frequently than your social media profiles. By strategically connecting your social media profiles to your nonprofit, you can present your nonprofit as active, modern, and worthy of donations. In addition to providing links on both your website and social media profiles to drive traffic between the platforms, consider:
Integrating your social media feeds. A regularly updated news page on your website shows supporters that your nonprofit is active and consistently making progress toward your mission. However, in addition to creating a series of blog posts to keep supporters up-to-date, you can integrate your social media feeds onto your website so supporters can see what you're up to on other platforms. This will encourage supporters to engage with you on multiple channels, while also saving your team the time and effort of updating both your accounts and your news page with major updates.
Running social media fundraisers. Social media fundraisers, particularly Facebook fundraisers, are started and managed by supporters raising funds on behalf of your mission. Some nonprofits shy away from social media fundraisers as they have less control over the outcomes. However, as GoodUnited's guide to Facebook fundraisers points out, while you may have limited control, these initiatives have the potential to raise a lot of funding as supporters encourage friends and family to give. You can support these fundraisers by publishing advice or instructions on your website to encourage supporters to maximize these fundraisers.
Engaging in peer-to-peer fundraising. Peer-to-peer fundraisers often also leverage social media as your supporters fundraise on your nonprofit's behalf. However, these campaigns differ from social media fundraisers as your team starts and manages the campaigns. While most of the outreach you and your supporters conduct happens on social media, your website hosts your supporters' peer-to-peer fundraising pages, making it the core of your campaign.
You might hesitate to direct traffic away from your website by linking to social media, but you shouldn't treat your social media profiles and your website as if they are competing with one another. Instead, consider the strengths and marketing opportunities of both to create a cohesive strategy that builds momentum towards your fundraising goal and provides multiple points of engagement.
3. Create a Brand Identity
Your nonprofit's brand should be apparent to any visitor as soon as they open your website's homepage. Create a brand style guide so all messaging and external communication consistently features your nonprofit's brand. Your website should follow your style guidelines, but keep in mind that it is also where many supporters will first familiarize themselves with your brand, making its representation of your brand particularly memorable.
Your website's design should support your brand, making it more memorable for visitors while conveying additional information about your nonprofit's mission and approach. For example, as Cornershop Creative's guide to some of the best nonprofit websites showcases, your brand is more than just your logo, color scheme, and tagline.
Cornershop Creative's guide shares this example from Sharsheret's website to discuss how nonprofits can cement their brand identity with key visual elements: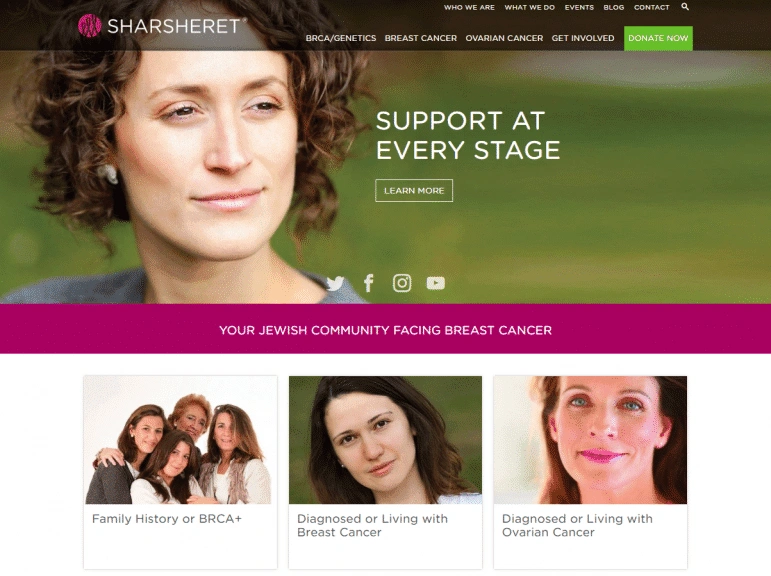 This homepage makes use of images, particularly its hero image, to visually demonstrate its mission's focus and invoke emotion in supporters. The hero image has a blurred background, drawing attention to the figure in focus, the woman who has been affected by breast cancer. The use of color, blurred images, and expression of the person in the photo create a sense of peace and trust that an organization focused on medical support would likely want to instill its supporters.
Visitors to this website will remember the magenta color (which stands out more due to being contrasted with the green of the donation button and hero image), the logo prominently displayed in the upper left hand corner, and their mission to support women.
As this example shows, your brand and website design should have a specific design goal. Outside of being memorable, consider what images and ideas you want to associate your brand with. As you can often only fit your logo and key colors onto external marketing documents, your website provides invaluable space to explore and reaffirm your brand identity with supporters.
4. Include Interactive Media
You can further engage supporters to support your fundraiser by providing interactive media on your website such as petitions, maps, and more. WordPress plugins can enhance your website's fundraising potential by creating user-friendly and responsive features that prompt supporter engagement.
As with your other design elements, choose plugins that match your nonprofit's fundraising goals by acting in service to a specific objective. For example, if you're seeking volunteers for a major upcoming fundraiser, you may include a pop-up calling for volunteers that appears after supporters submit their donation form.
Interactive media and plugins both require proper maintenance to remain reliable sources of engagement. Any visual media can break or slow down loading times, so schedule regular checks of your media links into your website maintenance process. Installing updates when they become available can help your nonprofit stay on top of bugs and security vulnerabilities.
Plugins require additional research to ensure they are secure, reliable, and also won't slow down your website. Before installing a plugin, check its recent updates and reviews to ensure the developer is still maintaining it and the plugin is legitimate. You can also use online resources like this one to find reliable and up-to-date plugins designed specifically for nonprofit websites.
If you need additional help creating interactive media or integrating plugins, reach out to a nonprofit website builder or design agency. These consultants have years of experience assisting nonprofits setup and optimize their websites, which means they are likely to have the solution for any coding errors or other technical issues preventing your website from reaching its full potential.
---
Fundraising campaigns are most effective when they're supported by their nonprofit's website. While you might see your website primarily as an informational tool, it also has the potential to raise awareness, encourage donations, and invite continued engagement with supporters interested in donating.
With 15 years of experience, Ira is an expert in nonprofit online communications and online fundraising. His work has resulted in increased funds and resounding supporter engagement for hundreds of organizations. Ira oversees our project management team and works with clients to provide our clients with the best possible final product. He also manages all of our strategic engagements and helps guide nonprofits to determine their long-term strategic goals for online communications.